Father Time® Auctions;
Live On Premises or Online Auction Site for Estate Liquidation and Real Estate
Whether the contents needs to be cleared from a home to prepare for sale and the house sold, or a maturing family is moving into a smaller residence and needs to downsize, or the homeowner is going into managed care, Father Time® Auction Service Certified Estate Specialists removes the hassle, uncertainty, and frustration from the process for you, your client or loved ones by liquidating everything in the house and the house for the greatest return in the least amount of time and expense.
We provide services as estate sale liquidators, we have a real estate auction online, and we have specialized training when it comes to moving or downsizing.

Sell the real estate

We will complete a financial analysis to determine if it might be best for the estate to invest to "fix up" the property or "sell it as" and accounting for holding costs of taxes, insurance, utilities, maintenance, lost opportunity. 

We are Accredited Auctioneers of Real Estate credentialed by the National Auctioneers Association.
There are less than 400 people who hold and have earned the Accredited Auctioneer of Real Estate (AARE) designation offered by the National Auctioneers Association, the only organization with the credibility to offer auctioneering designations.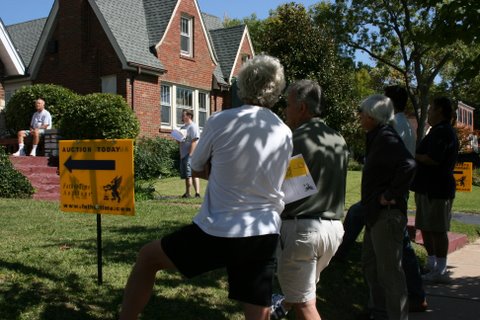 Competitive bidding by Buyers for a Home sold "As Is" at Auction

Real Estate Auctions are a Creditable Real Estate Agent Sales Resource 


Father Time® Auctions and Real Estate is a licensed real estate brokerage in Missouri and Illinois which means that we can cooperate with Brokers.
We frequently work with listing agents to merge auction and traditional sales strategies together to get the property SOLD! Call us in confidence to learn more. Your real estate will be listed in the MULTIPLE LISTING SERVICE MLS. 

Broker, Realtor and Salesperson participation is encouraged 
Cooperating Broker Auction Participation Form 

With a minimum of involvement on the part of you, your client or loved one, Father Time® Auctions will take charge of the property and liquidate it where it sits.
The house can be clear and ready for the next step in your strategy in as little as one day. We will organize the contents and market it to its best advantage. Inventory and appraisal services are also available. 

Father Time®Auctions staff is experienced working with Estates, Trusts, and Conservatorships. 

As an executor why would you trust just any auction or estate sale company to sell the personal property and the real estate.
We are educated and credentialed in the best practices of estate settlements. 

FATHER TIME® AUCTIONS IS THE CUTTING EDGE SOLUTION FOR ANY ESTATE LIQUIDATION 


Father Time® Auctions is an Internet driven business with a high profile WEB SEARCH presence.
We will publish hundreds of photos on our web site of the items to be sold. We draw the buyers and we will convert your assets ASAP. 

With established relationships Father Time® Auction Services can also arrange moving and storage services as well as hauling and disposal. 
Initial consultation and evaluation is free. Call Rick Bauer today for an appointment!

Father Time® Auctions is licensed, credentialed, and insured.
We take the stress out of your decision in choosing the best qualified and most reputable auction company. Best of all, everything will be sold by the end of the day.