4th Generation Serving St. Louis, MO and Southern ILL.
 - FREE Assessments!
Sell Your Property in 30 days at the Highest Price
Father Time® Auctions can help sellers realize the highest net price for their real estate in the shortest period of time... without the hassles & costs inherent with the traditional selling process. If you like the idea of getting your property sold exactly on the day you want, at a price determined by a competitive bidding process, inspired by a massive marketing campaign, Contact Us!

The Auction Advantage:
Commissions can be paid by the buyer or shared between buyer and seller

Seller protection with a reserve

A definite sale date, set by you

A sale at true market value with no upside price limitation

End last minute showings that disrupt your life

A marketing program that produces qualified bidders who will close quickly

Sell in "as-is" condition with no contingencies

Expect multiple offers, even in a slow market

Reduced carrying costs

Closing in 30 days or less

Keep your Broker and Agent
Father Time® Auctions and Real Estate also offers:

Valuation and Appraisal Services on Personal Property 
Equipment, Overland tractor/trailers, Construction Machinery, Inventories Farm Machinery, Process Equipment, Intellectual Property Rights, Marine Related, Intellectual Property Rights, Business Inventories and Household Contents. 

Broker, Realtor and Salesperson participation is encouraged Broker-Agent Participation Sign Up Form
The official logo;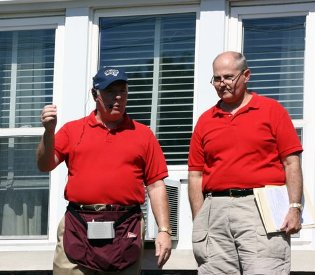 Less than 400 people hold the A.A.R.E. (Accredited Auctioneer Real Estate) designation, yet over 1-million properties were sold at auction in 2009. 

Whether selling residential, agricultural, land, commercial or industrial properties, AARE auctioneers have enhanced knowledge in all pertinent areas, such as: 

* Marketing techniques 
* Financial/investment calculations 
* Evaluating cash flow 
* Holding-period analysis 
* Tax consequences of buying and selling properties 
* Multi-parcel real estate auctions 
Talk with us about your Real Estate for expert guidance. For a free Assessment Contact Us today!
More Real Estate Buyer Auction Benefits:
• Buyers set their own purchase price. 
• Auctions eliminate long back and forth negotiation periods. 
• Auctions reduce time needed to purchase property. 
• Buyers do not have to worry about contingencies because purchasing and closing dates are known in advance of the sale. 
• Buyers can receive favorable pre-sale financing. 
• Due diligence is performed in advance of the sale. 
"Am I getting a bargain?"
Think of it this way - buyers get exactly what they want, at a cost of only one bid higher than someone else was willing to pay. 

If you want to learn more about buying a home or an investment property at an auction, please contact us - OR - Tell your Agent to call us 
Broker, Realtor and Salesperson participation is encouraged
Broker-Agent Participation Sign Up Form 

Contact Father Time® Auctions to learn more